Strong points haul for Access Plus Racing to maintain PSBK points lead at BRC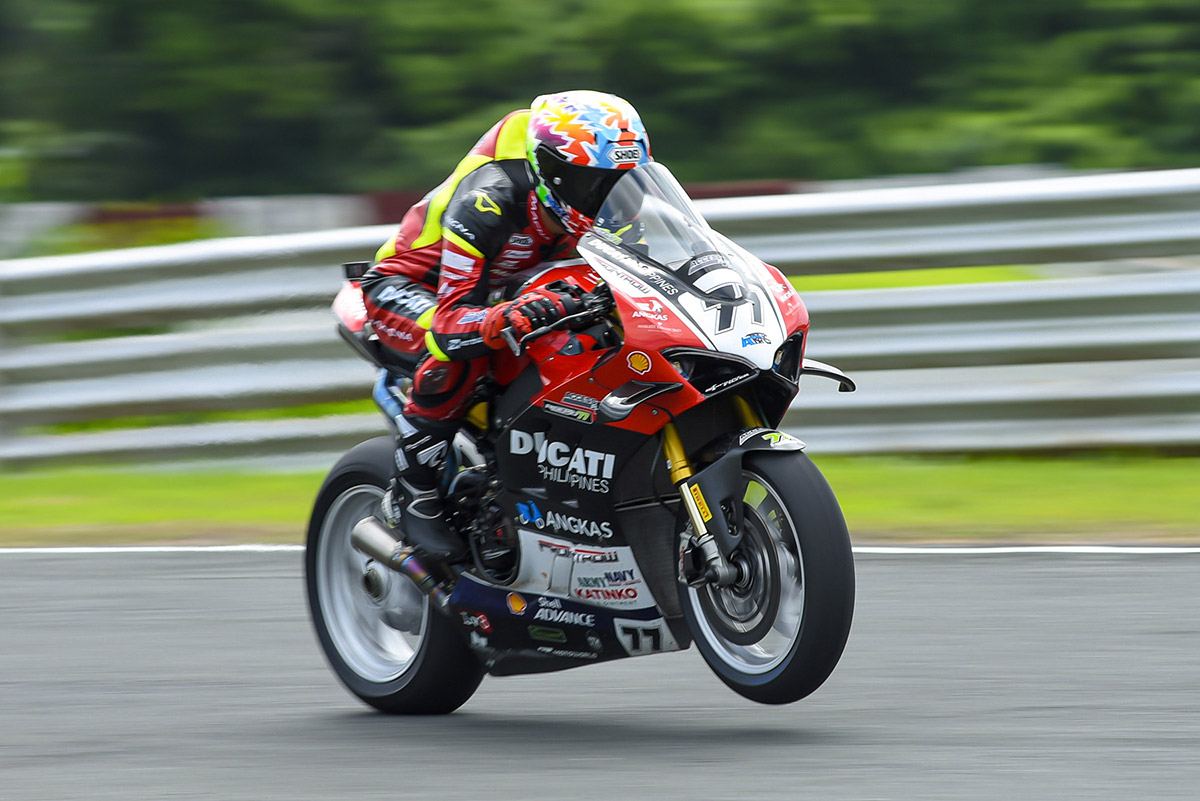 Access Plus Racing was in the thick of the 2023 title fight during the Philippine Superbike Championship's (PSBK) penultimate event of the season at the Batangas Racing Circuit (BRC). Both team riders Timothy Joseph "TJ" Alberto and teammate Lawrence Macalinao came under immense pressure over the weekend yet managed to deliver solid results and maintain their points lead in their respective classes.
The team arrived on track with full confidence after a productive test on the 3.500 km track just a week prior. This would allow them to fine-tune their latest 2023-spec Ducati Panigale V4 R and V4 S together with the new Pirelli Diablo Superbike SCX rear tire. However, a shift in the weather conditions forced them to make last minute adjustments on the go.
Alberto set a respectable 1:34.624 lap during Qualifying that would put him on the front row in P3. Meanwhile, Macalinao managed to put in a clean lap that would see him start from P5 on the grid.
With the championship on the line, Alberto immediately went for the holeshot at the start of Race 1 and took an early lead. But this was short-lived as he immediately came under attack from his title rivals. The #77 Ducati rider, Marvin Mangulabnan on the Aprilla, and Dashi Watanabe on the Kawasaki were then nose-to-tail throughout the 11-lap race and consistently traded positions with Alberto taking 2nd place as the chequered flag dropped.
Race 2 in the afternoon saw a repeat with the Top 3 fighting intensely for position with Alberto managing to hold onto the lead this time. He controlled the race from the front over the next few laps 'til Mangulabnan made a daring lunge at the hairpin. This caused Alberto to lose momentum and got held up behind Watanabe in P3. It would take him several laps to get past and by that time Mangulabnan would have already opened up a gap. Still, Alberto was pleased with 2nd place and the fastest lap of the race while keeping his points lead intact.
With their pair of 2nd place finishes, Alberto and Macalinao are able to maintain their Pro and Expert Class lead in the standings. This leaves the title fight in the 2023 Philippine Superbike Championship (PSBK) wide open as it heads to the season finale on October 15 and 16 at the Clark International Speedway (CIS).
TJ Alberto, #77:

"Happy to have finished both races in 2nd. The win escaped us in both races today, but we're happy to show good pace and the fastest lap in Race 2. The target is still to win the championship and what's important is that we keep the points lead heading to Clark."