TJ Alberto and Macalinao score double PSBK podium for Access Plus Racing at CIS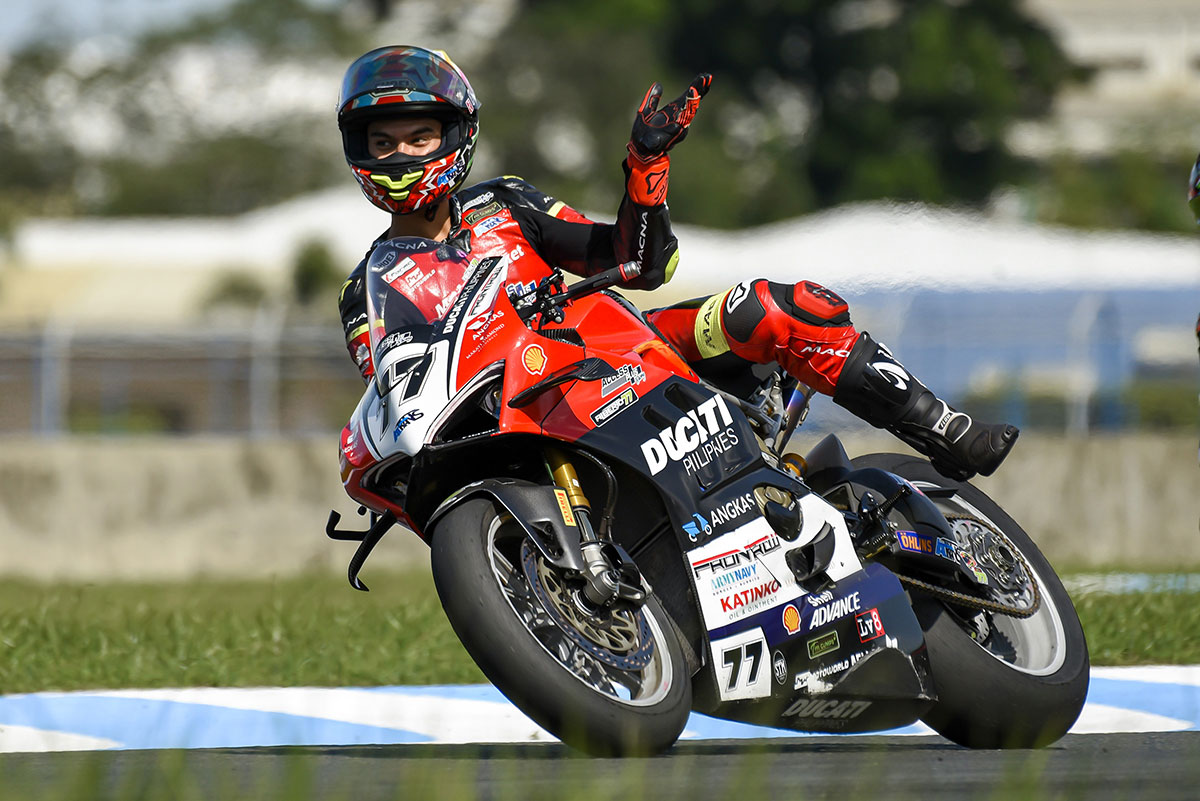 Access Plus Racing further solidified that they're the team to beat in the Philippine Superbike Championship (PSBK) when the 2023 season visited the Clark International Speedway (CIS) over the weekend. Not only did Timothy Joseph "TJ" Alberto and Lawrence Macalinao win both races in their respective categories, but the Ducati riders also shared the overall podium for an exceptional 1-3 finish.
The team brought out the latest 2023-spec Ducati Panigale V4 R and V4 S just in time for a mid-season race debut. Although they only had a handful of days to test their new machinery, it was immediately clear how much more capable they were on track.
Alberto had no problems getting down to the 1 minute 49 second mark and set the 2nd fastest time in Qualifying with a 1:49.969, just 0.117 seconds off pole. Even more impressive, his teammate was now able to set a sub 1 minute 54 second lap. This was mainly due to a new bike setup on Macalinao's #26 machine that enabled him to push near the limits more comfortably and set a 1:54.747 time good enough for P4 on the grid.
Temperatures were scorchingly hot as Race 1 got underway on Sunday morning. Alberto was quick off the line and got the holeshot into turn 1. He then spent the next 10 laps in control of the race lead, keeping his closest rival Marvin Mangulabnan behind him. The reigning 2-time PSBK champion later crossed the line in a very gratifying 1st place in Pro Class, which was a big relief coming from a rough race weekend at BRC last month.
As the tarmac reached boiling point in the afternoon sun, so did the action in Race 2. Alberto followed Mangulabnan into turn 1 this time around and stayed calm as he waited for an opportune moment to overtake. That came up on lap 5 where a clean pass allowed Alberto to take the lead. He again defended all the way to the chequered flag to capture his second win of the weekend.
Alberto's pair of race wins now puts him 6 points clear ahead in the Pro Class standings while Macalinao is able to extend his lead to 14 points as the season reaches its halfway point. The 2023 Philippine Superbike Championship (PSBK) returns to the Clark International Speedway (CIS) for on August 5th and 6th for Round 4.
TJ Alberto, #77:

"It was a really exciting weekend and happy to be back on top. The 2 race victories were really essential for the championship. We'll be back in Clark in a month's time where we hope to extract even more performance from the 2023-spec Panigale V4 R. The team put in a lot of work to get the new bike ready and we were rewarded with wins on its first outing. However, I think we have not yet unlocked the full potential of the new bike from Ducati and I'm really pumped up for the next round."