Access Plus Racing welcome ARRC season opener with Top 10 finish in Thailand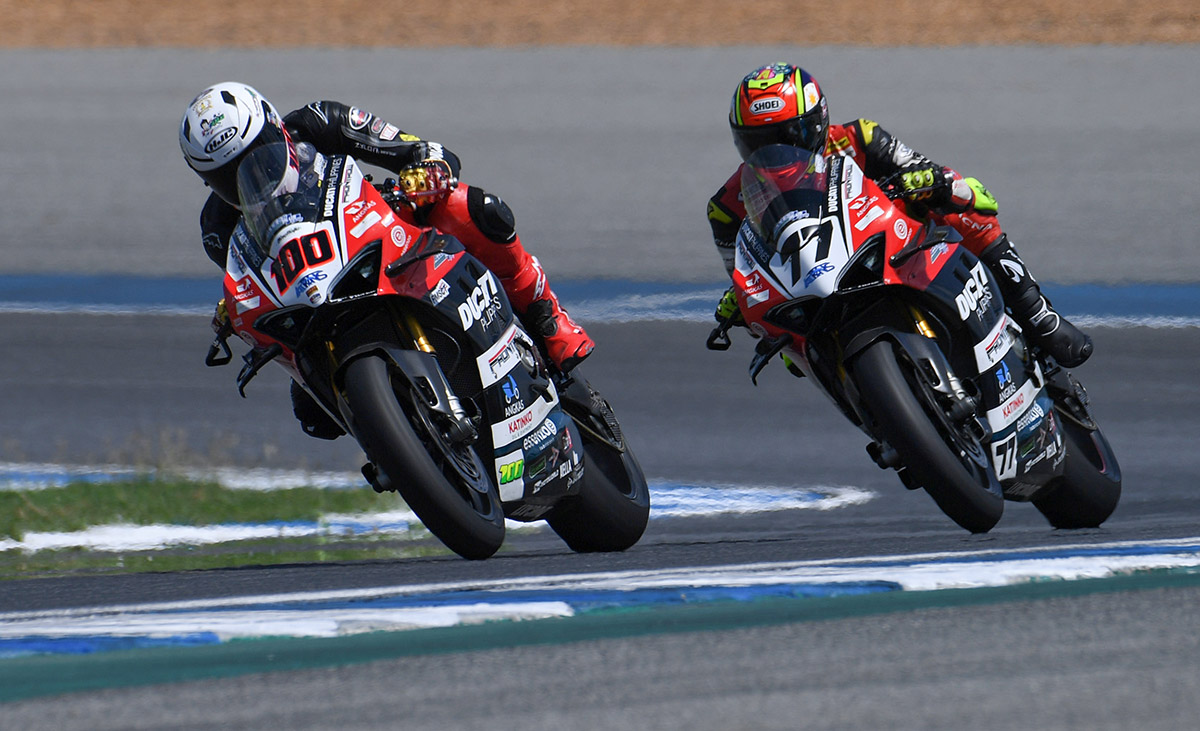 Access Plus Racing delivered a pair of Top 10 finishes at the opening round of the Asia Road Racing Championship (ARRC), setting the tone for the team's ASB1000 campaign in 2022. Thitipong "Tingnote" Warokorn would qualify on the front of the grid that saw him finish strong in both races at the Chang International Circuit. Timothy Joseph "TJ" Alberto, on the other hand, suffered an unfortunate injury that prevented him from adding to the team's achievements this weekend.
The newly-signed Thai rider turned heads on the Panigale V4R. Despite it being his first time on a Ducati, Warokorn was able to set some of the quickest times on track. He then carried this momentum over to Qualifying where he put the #100 machine on the front row of the grid in 2nd. Alberto was also pleased with his runs as he was already faster than his previous best last time they visited the circuit. The lone Filipino rider on the grid ended up 11th.
Access Plus Racing's hopes of a podium, however, was hampered when Warokorn was forced to start from the pit lane in Race 1 on Saturday. It was also a painful blow to the team when Alberto collided with another rider on the opening lap and forced him into a DNF. With Warokorn left alone to fly the team's colors, the Thai pushed hard to regain the places he had lost. He managed to climb up a spot on almost every lap and found himself as high up as P4, eventually finishing in a strong 9th place. It was later revealed that Alberto suffered a fractured collarbone as a result of his crash and had to sit out the rest of the race weekend.
All the team's chances of a good result rested with Warokorn on Sunday. He fought for position throughout the gruelling 13-lap race to secure a hard-earned 8th place, improving on his position from the previous day.
With lessons learned from the season opener, Access Plus Racing will come back stronger for the second round of the ARRC's 2022 season. Warokorn currently sits 7th in the overall standings. The Philippine-based team will have a 2 month break before racing resumes on May 27-29 at the Sepang International Circuit in Malaysia.
TJ Alberto:
"Not the weekend that we were expecting. I was injured when I crashed out in Race 1 and could no longer participate in Race 2, so I'm leaving Thailand with no points. But there were positives from the season opener. Our pace showed that we have potential just that luck was not on our side. I'm now looking forward to be fit to race in Sepang in 2 month's time."
Toti Alberto, Team Principal:
"Overall, I'm happy that our lap times are very competitive in Thailand and our riders are up there with the front runners. We just have to iron out some small issues with the bike to have a more consistent race and deliver results. It's only the first race of the year and the team will be working hard to get back in shape in Sepang, especially with TJ on his road to recovery."